ST GILES INTERNATIONAL Language School
USA – CANADA – UNITED KINGDOM
---
WHY STUDY ENGLISH AT ST GILES INTERNATIONAL?
St Giles International Language School is one of the oldest and well-established language schools in both the world and the UK. With more than 65 years of experience, St Giles has top quality language schools in America, Canada and England. St Giles is among the most prestigious language schools in the world with the education it provides and the opportunities it offers. Being a student at St Giles, which has the title of "The World's Best School" in the auditions held among language schools in 2006, opens the door to wide social opportunities as well as increasing your professional competence.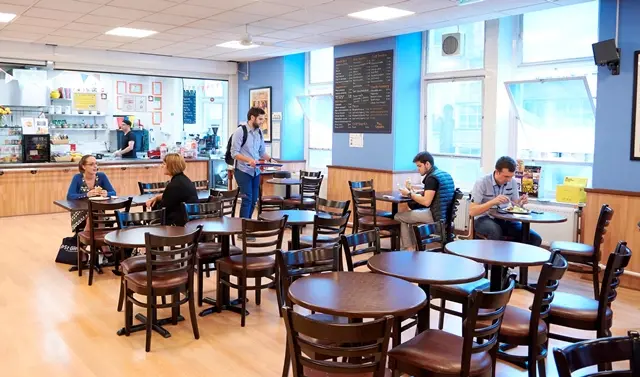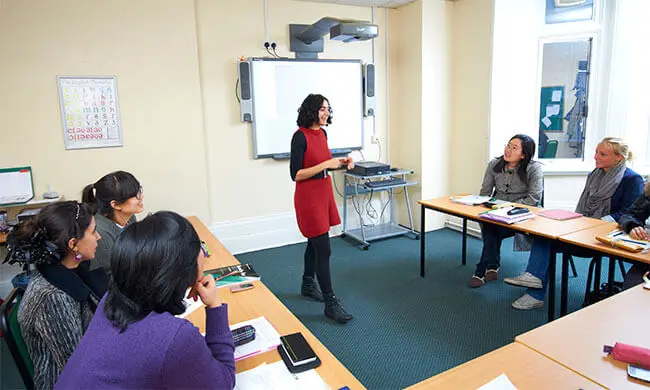 Advantages of ST GILES Language School
WIDE RANGE OF COURSES
St Giles offers English language course programs in the fields of general English, professional English, exam preparation and teacher training in amazing cities like London, Cambridge, Brighton, Eastbourne, Vancouver and Toronto. It offers many different English language training programs, including exam preparation courses. There are also 'Junior Summer School' program and summer language course programs for students aged 14 and over.
SCHOOLS LOCATED IN 3 CONTINENTS
Founded in 1955 by Paul Lindsay and his wife Diana, St Giles today serves with its schools in many developed cities in America, Canada and England. At the same time, all of the teaching staff have internationally recognized Cambridge CELTA and Trinity CertTESOL certificates.
STUDENT-FOCUSED TEACHERS
St Giles is a well-established educational institution and provides its students with high quality and modern facilities such as the latest electronic devices, smart boards, self-access centers and a digital language laboratory. The basic principle of the experienced teaching staff and the entire working team is to focus on the needs of the student.
Providing education to more than 15,000 students from more than 100 different countries of the world every year, St. Giles Language Schools offers its students a dynamic environment where they can meet and exchange ideas with many students from different cultures. Creating a different environment for each program, the language school also aims to bring quality education to all students by affordable tuition fees.
KEY INFO
FREQUENTLY ASKED QUESTIONS
When Can I Start Studying at St Giles?

Every Monday throughout the year is determined as the course start date at the school. However, we recommend that you have a detailed discussion with us before any plans to avoid possible problems due to special days and holidays.
What Are St Giles Language Training Programs?

General English

Cambridge Exam Preparation

IELTS Preparation

Business English – Internship Program

Teacher Training Programs

Family Summer Schools

General English for 30+
How Long Does Language School Training Take?

The duration varies depending on the type of program you prefer. General English programs at The St Giles last a minimum of 1 week.
Will I Take The Pre-Language School Exam?

St Giles requires you to complete an online multiple-choice test as an initial step towards your application. Before completing the Registration Form, you will complete this test and take second placement test upon arrival at the school.
Where Can I Stay While Studying at St Giles Language School?

In-site residentials

Student dormitories

Student houses

Homestay

Hotel

Apartments for rent
What Facilities Does St Giles Provide to Students?

Private study center

Computer and internet

Platinum hub for executives

Student cafe

Student bookstore

Terrace and garden environments

Disabled friendly access opportunities

Bowling, movie events, special trips

Social Program: Regular social activities every month. (Social programs may incur a fee.)
What Are The Highlights of St Giles?

65+ years of experience

Cambridge CELTA and Trinity CertTESOL certified teachers

Schools in top cities of 3 different countries

Student-oriented teaching method

Continuous recording of student progress

Prestigious and affordable language school opportunity

Flexible and tailored programs

24 hour student support line
How Much Are The St Giles Language School Prices?

Language school prices vary according to the type and duration of the program you choose.

As an example, prices for St Giles London 2023 are GBP 1.016 for General English program for 4 weeks – 20 hours per week – totaling 80 hours.

There may be periodic changes in prices.

YOU CAN CONTACT US REGARDING YOUR PREFERRED LANGUAGE PROGRAM AND TO OBTAIN THE BEST LANGUAGE SCHOOL OFFER SUITABLE FOR YOUR DESIRED PERIOD.
WHERE IS St gıles London LOCATED?
Get a price quote for your preferred program
Get Your Quote for Language TraInIng at St GIles
Strengthen your career with Giles International Language School, one of the most reliable and quality brands of the English language education sector worldwide since 1955.